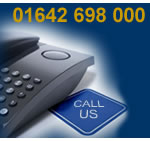 Call us now on 01642 698 000
---

About Us
G Hornby & Co are experiened qualified accountants based in Middlesbrough. We provide a wide range of accountancy and tax services to small businesses and taxpayers both locally and nationally.
The business owner, Gary Hornby, is a Chartered Management Accountant and an Independent Certified Practising Accountant and has over 25 years experience working with small and medium sized businesses in both manufacturing and service industries.
Our promises to you:
To provide a friendly, courteous and efficient personal service
To listen to what YOU have to say
To respond to telephone messages and emails the same day wherever possible
To be honest, truthful and up front with you at all times and to explain things in plain English - no jargon!
To strive to exceed your expectations
To never surprise you with unexpected bills
To aim for you to pay the legal minimum amount of tax
Our principal, Gary Hornby, would be delighted to talk to you!
We offer the following benefits and guarantees:
FREE initial meeting at your premises with no obligation
Appointments available evenings and weekends at a time to suit you
Competitive fixed price agreements with easy monthly payments
No additional fees to pay unless agreed in advance
No minimum contract term - our agreement can be terminated at any time
FREE initial tax review
Unlimited email and telephone support
FREE small business bookkeeping software including training
For larger businesses, cloud based accounting software at only £10 plus VAT per month
As fully qualified and regulated accountants, all work is covered by our Professional Indemnity insurance for your peace of mind
All clients are covered by Tax Enquiry Fee Protection insurance at no additional cost. In the event of any enquiry into your affairs by HMRC, all accountancy costs incurred in defending your position are paid by insurers. (Conditions apply including that all tax returns must be submitted on time)
Monthly newsletter designed to bring you tax tips and news to keep you one step ahead of the taxman
Work on time, every time
---
---